Obsession for men by Calvin Klein
Women will swap roles and purse their lips on the street to wolf whistle. Obession for men smells of…
Learn more!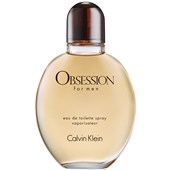 Calvin KleinObsession for menEau de Toilette Spray
BP: €55.93* / 100 ml
Obsession for men Men's fragrances by Calvin Klein
Women will swap roles and purse their lips on the street to wolf whistle. Obession for men smells of purity and passion, an explosion of emotions. That said, it loses none of its masculine power of attraction. Obsession for men is a sophisticated fragrance for a modern man, fresh and crisp.