Powder and foundation brush by Da Vinci
Developed in co-operation with make-up professionals, this professional selection of high-quality an…
Learn more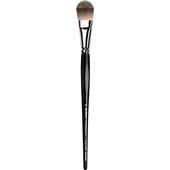 Da VinciPowder and foundation brush Foundation Brush, synthetic fibres
BP: €28.95* / 1 pcs.
Powder and foundation brush Professional by Da Vinci
Developed in co-operation with make-up professionals, this professional selection of high-quality and long-lasting products leaves nothing to be desired. PROFESSIONAL is distinguished by the "esagonal shaft" which we developed and the flatted grip section of which stops the brush rolling away. Moreover, these brushes sit particularly well in your hand and are very well balanced.