Mask brush by Da Vinci
Comfortable, smooth application of masks is what distinguishes Da Vinci's Mask Brush range. The Prof…
Learn more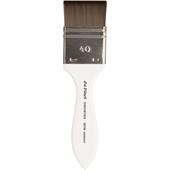 Da VinciMask brush Wide Mask Brush, flexible synthetic fibres
€8.96
/ 1 pcs.
BP: €8.96* / 1 pcs.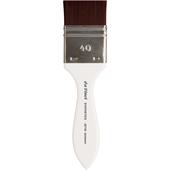 Da VinciMask brush Wide Mask Brush, strong synthetic fibres
€8.96
/ 1 pcs.
BP: €8.96* / 1 pcs.
5/5 AggregateRating
Mask brush Professional by Da Vinci
Comfortable, smooth application of masks is what distinguishes Da Vinci's Mask Brush range. The Professional Brushes sit comfortably and practically in your hand and allow for a convenient application of masks, creams and body wraps. Even hair removal wax can be applied precisely with the Mask Brushes. White Chinese bristles or strong synthetic fibres are suitable for any and all consistency of mask or cream. Thanks to their svelte and narrow shape, the brushes can also be packed into a bag for on the go without taking up too much space.
Da Vinci Professional Mask Brushes - apply practically and precisely
The shafts of the Mask Brushes by Da Vinci Professional come in a clean, elegant white. Da Vinci Cosmetics Brushes for masks are also available in a glossy black design with white Chinese bristles. Wide and flat or narrow and round shafts guarantee a firm grip when applying cosmetics products with pinpoint accuracy. The brushes' synthetic fibres are easy to clean: cleaning should be done regularly with Da Vinci Cleaning Soap for Cosmetics Brushes or another brush shampoo. After lathering up the bristles, the brushes should be rinsed and dried thoroughly. The brushes are handmade in Germany.