Accessories by Dr. Hauschka
Make up can only deliver its full potential when appropriate accessories are used for its applicatio…
Learn more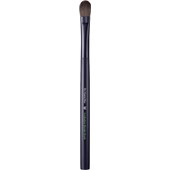 Dr. HauschkaAccessories Eyeshadow Blender Brush
€17.95
/ 1 pcs.
BP: €17.95* / 1 pcs.
5/5 AggregateRating
Accessories Make-up by Dr. Hauschka
Make up can only deliver its full potential when appropriate accessories are used for its application. Since 1999, the traditional brand Dr. Hauschka has expanded its range and offers natural decorative cosmetics. The portfolio is not only characterised by its refusal to use chemical ingredients and its reliance on pure plant-based formulations. Valuable medicinal plants enrich the make-up and nourish the made up areas of the face. This makes it only logical to offer functional, well thought out accessories such as powder brushes and eyeshadow brushes to use alongside the remarkable products. It goes without saying that Dr. Hauschka adheres to its usual high standards when it comes to the materials and production of these products. For example, the company, based in Bad Boll, attaches great important to fair trade and a logical concept for the products.
Vegan powder brushes and functional make up tools
. For many of the accessories, no animal products are used, matching up to the philosophy of Dr. Hauschka's organic cosmetics. The range of make-up tools includes several vegan brushes for powder, blusher and eyeshadow. This is not simply an attitude to life. Synthetic materials are also better suited to some of the textures of the decorative make-up than natural hair. The brand's accessories are specially designed for each step of make-up application. This allows you to achieve an accurate result with the make-up tools, meaning you can effectively use the decorative cosmetics. The brushes are easy to care for and can be used for a long period of time. Those who are interested in pure plant-based cosmetics should investigate the cleansing and nourishing range from Dr. Hauschka.