Razors by ERBE
For a thorough shave, many men continue to rely on the classic wet razor. For comfort and safety whe…
Learn more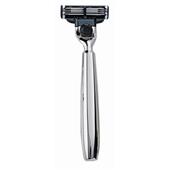 5/5 AggregateRating
Razors Shaving Shop by ERBE
For a thorough shave, many men continue to rely on the classic wet razor. For comfort and safety when doing so and also for dozens of items for a perfect shave, it is worth taking a look at the razor from the international company Becker Manicure. In its Shaving Shop product range, the company offers everything that men need for a well-groomed appearance as well as single- and double-blade razors that, in addition to their basic function, provide maximum safety too. Placed in a razor holder from the Shaving Shop collection, each of the manufacturer's razors has a fixed place in the bathroom.
Experience smooth skin with Becker Manicure quality
Becker Manicure stocks robust razor blades as an accessory for all razors from the Shaving Shop range. Changing a blade takes just seconds and helps you to achieve a perfect, smooth complexion. One look in the categories of our Online Shop reveals high-quality additional items and practical accessories to make shaving easier. Of course, you can also purchase eau de toilette and distinctive men's fragrances from famous brands to round off your shaving experience freshly!