Rajasthan by Etro
The unisex fragrances by Etro have always been distinguished by that je ne sais quoi. The
Rajasth… Learn more!
Rajasthan Unisex fragrances by Etro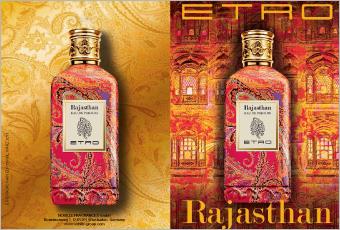 The unisex fragrances by Etro have always been distinguished by that je ne sais quoi. The Rajasthan Perfume is a fragrance creation that is somewhat seductive and poetic. The aromas are somewhat fresh and lively and are persuasive due to their variable character. Mimosas, Damascene roses and winter lemon create an interesting base that opens up abundant room for well-being and relaxation-
A fragrance for every occasion
Unisex fragrances by Etro can be worn in every situation. The sophisticated aromas of the unique fragrance are repeatedly interrupted by white musk and sensuous amber. The powerful splendour of the composition is permeated by pink pepper and sweet acacia. Shining leaves of blossoms create a varied character that attests to passion and elegance. Immerse yourself in the splendid world of colours of jewelled Maharadscha palaces that attest to time-honoured glamour and exotic cultures.