Midnight Oud by Juliette has a Gun
The luxurious Midnight Oud from the Juliette Has A Gun brand is an exotic creation which can scarcel…
Learn more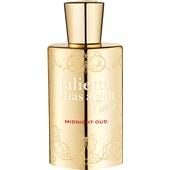 Juliette has a GunMidnight Oud Eau de Parfum Spray
BP: €121.95* / 100 ml
Midnight Oud Women's fragrances by Juliette has a Gun
The luxurious Midnight Oud from the Juliette Has A Gun brand is an exotic creation which can scarcely be surpassed in luxury, extravagance and unique notes. The elegant perfume was conceived by experience perfumer Romano Ricci in 2009 and has been constantly produced since then thanks to its huge popularity. The exotic composition is suitable for fans of oud which is known for its intense scent and oriental aura. Ultimately, the fragrance is refined by sweet and floral accents which aim to soften up some of the edges of the intense oud.
Wonderfully daring fragrance for real connoisseurs
The luxurious composition comes in a gold flaçon with several inscriptions and a matching gold cap. The prelude is distinguished by birch tar and rose until the fragrance is ultimately led to its multi-facetted core. Here can be found old papyrus, cedar, the Bulgarian rose, patchouli and finally the legendary and luxurious oud. The fragrance is perfected by its multi-faceted base of warm vanilla, musk, castoreum, cetalox and unmistakable sandalwood. Unlike other women's fragrances, this composition is absolutely guaranteed to be unmistakable and laconic.