Romantina by Juliette has a Gun
The Romantina range from Juliette Has A Gun is aimed at the perfume of the same name which comes in …
Learn more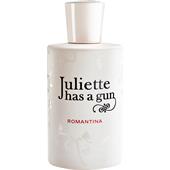 Romantina Women's fragrances by Juliette has a Gun
The Romantina range from Juliette Has A Gun is aimed at the perfume of the same name which comes in a light beige with black writing and matching cap. In addition, the range also offers a practical refill so that the luxurious perfume can always be conveniently refilled as required. The story surrounding Romantina concerns a young woman who fell in love in Rome but had to leave the city after just 24 hours - this gave rise to an absolutely perfect love story.
The elegant Italian fragrance
The women's fragrances from Juliette Has a Gun are known for their creative and extraordinarily high-quality composition. The Romantina range was developed by perfumer Romano Ricci, and the top notes are composed of fresh orange blossoms, floral lily of the valley and jasmine. The core of the fragrance consists of iris and osmanthus, whilst the composition is perfectly rounded off by gentle rose. The base of the fragrance is warmer and spicier since it combines the unique notes of bourbon vanilla with vetiver and patchouli. This gives rise to a floral fragrance that exudes lots of magic and a quite unique atmosphere.