Men by Karl Lagerfeld
The fact that Karl Lagerfeld is multi-talented has been public knowledge for a long time. The German…
Learn more
Men Men's fragrances by Karl Lagerfeld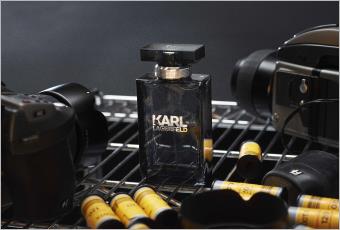 The fact that Karl Lagerfeld is multi-talented has been public knowledge for a long time. The German fashion designer is not just famous for his amazing fashion taste and his ability to find new, elegant trends. His fragrances for men and women are also a great success. With his "Men" series, Lagerfeld has produced an elegant fragrance for men, which does not just score points with its impeccable aroma. Its typical black/silver appearance is also amazing. This is the look that Karl Lagerfeld also likes to use in his fashion collection for men. The men's fragrances are not only available as a perfume but also in a number of care products.
Fragrances from Paris with German roots
The fragrance series "Men" was developed by Karl Lagerfeld together with the perfumer Jean-Christophe Hérault. The perfume's top note is a combination of mandarin and lavender and the middle note is a wonderful mix of violet and green apple. The aromas sandalwood and amber give the base note a natural touch. The fragrance is not just available as a perfume but also as a shower gel that can be used by everyone, a practical deodorant and an after shave balm. Together these products provide extensive skincare for men.