Accessories by Kérastase
Kérastase is a French brand company known around the world for its high-quality hair care and exciti…
Learn more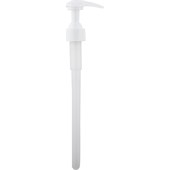 KérastaseAccessories Kérastase Pump for 1000 ml
€8.25
/ 1 pcs.
BP: €8.25* / 1 pcs.
4/5 AggregateRating
Accessories Hair care by Kérastase
Kérastase is a French brand company known around the world for its high-quality hair care and exciting hair cosmetics. The Parisian company offers practical accessories to complement its many product ranges in order to facilitate the use of the shampoos, serums or care products. Our range offers you all the various items that Kérastase sells as accessories. If you, too, would like to rely on French brand company Kérastase for your hair care, the products in this category are sure to help you and also make applying the various care products easier.
Simplify your hair care and beauty with the right accessories
Available in this category as practical accessories, you can expect to find pumps for bottles and flaçons by Kérastase, among others. These make removing the liquids and lotions easier, eliminating the need for excessive handling, particularly in the professional salon, including yours. Naturally, the accessories can only be used with the hair care and beauty products offered by the French manufacturer. Our online shop gives you an overview of all the key product ranges, which you can purchase through us at attractive prices.