Moisturizing Care by Marbert
Massive dehydration is one of the most significant problems for both youthful and mature skin. Many …
Learn more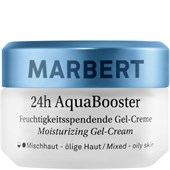 MarbertMoisturizing Care24h AquaBoosterMoisturising Gel Cream Oily
BP: €47.90* / 100 ml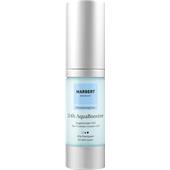 Moisturizing Care Skin care by Marbert
Massive dehydration is one of the most significant problems for both youthful and mature skin. Many skins do not suffer from a lipid deficit, instead the main problem is a lack of moisture; special care products, such as the creams in the Moisturising Care Line by Marbert, can help the skin to regain its firmness and elasticity. The optimal moisture supply also ensures that the skin appears younger and the complexion appears more regular. The cosmetic can be ordered very easily online.
Moisture and care - Moisturising Care Product Line by Marbert
This series, available in good chemist shops or via online order as a special cosmetic, provides sustained moisturising care for dry skin. On the one hand, the integrated Hydro-Booster ensures that the skin is supplied with sufficient moisture all day long and, on the other hand, it promotes the skin's own hydration. Last but not least, regular use affords protection against external influences, as the cream specifically supports the skin's natural barriers.In addition to the base product, a preparation specifically for combination skin or very oily skin is available, which has a simultaneous cleansing effect. Those wanting to simultaneously use the care product as make-up as well should use the tinted varieties offered in two different colour tones. An additional lifting effect is offered by the eye cream in the series, which makes the skin appear firmer once applied. Dark circles under the eyes, shadows and lines disappear, making the skin appear considerably younger.Moisturising, nurturing and protective - the products in the Moisturising Care Series by Marbert are effective and long-lasting; the cosmetics can be ordered quickly and easily online.