La Collection Privée Unisex fragrances by Molinard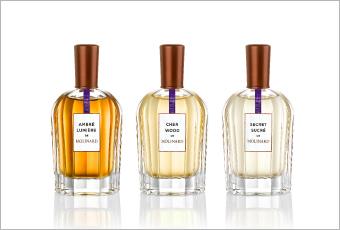 The La Collection Privée from the Molinard brand, officially presented at Mailand Esxence in March 2014, contains five unisex fragrances which are meant to evoke various emotions. With this perfume, Jean-Pierre Lerouge wanted to continue the traditions of the company that has been a family-operated organisation for five generations. In the La Collection Privée range, it is not a case of combining individual fragrance notes but rather the character of various compositions which will stimulate contemplation in the wearer and those around. Secret Sucré presents warm notes of ambergris and aromas of gourmand. Ambré Lumière comes across as soft, warm and at the same time enchanting thanks to oriental notes, musk and delicate nuances of gourmand. The sensuously enigmatic Cher Wood combines oriental and woody notes. Moreover, Acqua Lotus, a pure, invigorating fragrance, and Rose Émois, a silky, elegant creation, also belong to the La Collection Privée range.
Unique fragrances in old tradition
Since the 19th century, the name Molinard has stood for timeless perfumery with a sense for romanticism. Five generations of the family have passed down their knowledge in the town of Grasse, the birthplace of countless, wonderful fragrances. With the Collection Privée range, the traditional company wants to celebrate its 165th birthday and bring past and future together. Five perfumes which symbolise five generations. Unisex fragrances - neither overly masculine nor overly feminine. Subtle and honest, tactful, elegant and generous, impressive and timeless - all these properties can be found in this exclusive perfume range. The unisex fragrances in the Collection Privée range continue the tradition of the Molinard brand. Each perfume is its own masterpiece and will whisk you away on a unique fragrance journey with its classy and precious raw ingredients.
La Collection Privée by Molinard