Wood Unisex fragrances by Montale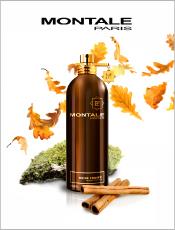 The unisex fragrances from the brand Montale impress with their unique formulae. Every perfume from the Around the Wood collection accentuates the individual character of the respective wearer. With classics such as Black Aoud, White Aoud and Wild Aoud, women and men across the globe have fallen under the spell of modern perfumery. Scents like Boisé Fruité, Aoud Silver, Patchouli Leaves and Full Incense all belong to the Around the Wood collection and impress with their many different aromas. Every fragrance in the collection has touch of mystery to it, which makes it something truly special and unique.
The variety opens up endless possibilities
For those who like woody essences, you'll be delighted with the scents in this collection. Unisex fragrances remain the supreme discipline of perfumery: after all, they need to be suitable for both sexes and yet still have a real sense of aroma and individuality about them. With the unisex fragrances in this collection, star perfumer Pierre Montale has succeeded in meeting these requirements. During his over 30-year career in Saudi Arabia, the Frenchman gained extensive knowledge of exotic fragrances and essences. Since 2001, he has been bringing this experience together to create exceptional fragrance creations with a sensual and graceful aura, which lend a hint of elegance to their wearer.
Lively classics for a touch of everyday luxury
The woody essences from the Montale fragrance collection are kept in a metal flaçon, meaning the unisex fragrances are affected neither by sunlight nor by heat or cold. The aromas are distinct, spicy, fruity, fresh, exciting and discreet. They adapt to the respective situation and can be worn by women and men both at work and in their leisure time.