Huile Prodigieuse by Nuxe
With Huile Prodigieuse, cosmetics institute Nuxe offers a precious oil that can be used to care for …
Learn more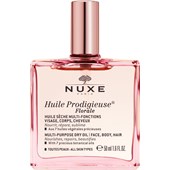 NuxeHuile Prodigieuse Huile Prodigieuse Florale
BP: €399.00* / 1000 ml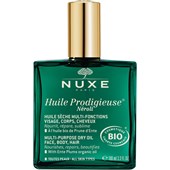 5/5 AggregateRating
Huile Prodigieuse Huile Prodigieuse by Nuxe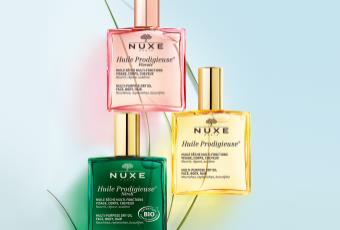 With Huile Prodigieuse, cosmetics institute Nuxe offers a precious oil that can be used to care for the body, skin and hair. The multi-action dry oil is made from more than 98% naturally sourced ingredients. A unique combination of rich plant oils, extracts and vitamin E conditions, nourishes and repairs the skin or affected skin areas on the whole body. Hair too, is left soft, silky and with a shimmery shine thanks to the beauty oil.
Rich, multi-action dry oil for the body, skin and hair
Huile Prodigieuse from the institute of Nuxe can be used in various ways as part of your daily skin and body care routine. Just a few drops of the dry oil can perfect your make-up, create a relaxing bath or give you a natural look following your daily hair care routine. The dry oil can be used daily and without restrictions by women with all normal skin and hair types. Nuxe's Huile Prodigieuse is available in a beautifully designed flaçon or as part of a high-quality Gift Set containing the cosmetics products Contour des Yeux Prodigieux and Crème Prodigieuse.