Huile Prodigieuse Or by Nuxe
For its multi-action dry oils Huile Prodigieuse and Huile Prodigieuse Or, cosmetics institute Nuxe P…
Learn more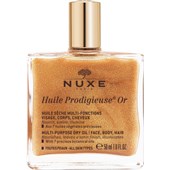 NuxeHuile Prodigieuse Or Huile Prodigieuse OR
BP: €519.00* / 1000 ml
4/5 AggregateRating
Huile Prodigieuse Or Huile Prodigieuse by Nuxe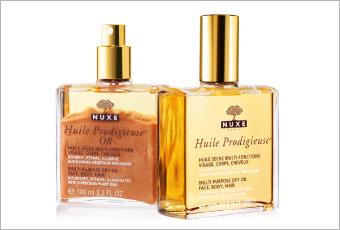 For its multi-action dry oils Huile Prodigieuse and Huile Prodigieuse Or, cosmetics institute Nuxe Paris uses only specially selected ingredients and fuses these together to create a unique formula. Six precious, natural oils derived from borrage, nut, St. John's wort, sweet almond, camellia and macademia plants are blended together in Huile Prodigieuse Or to create a highly effective extract with zero additional conservatives that can be used as part of a daily body, skin and hair care routine. As a special addition, to leave the skin and hair with a golden shimmer, Huile Prodigieuse Or also contains mother of pearl. Golden mother of pearl illuminates numerous skin and hair types in a natural way without the use of chemical processes.
Golden shimmering dry oil with multi-action and illuminating effect – Huile Prodigieuse by Nuxe
Owing to their high concentrations, just a few drops of the oils are enough for daily body, skin and hair care. Huile Prodigieuse by Nuxe unfolds its effects the moment it is applied and can also be used as a hair finishing product or bath essence. The rich oils from the cosmetics institute are suitable for all normal skin and hair types and can be used daily as part of a special body care routine.