Cellrepair by SBT cell identical care
The Cellrepair body care product from SBT Sensitive Biology Therapy is a trend-setting cosmetic at t…
Learn more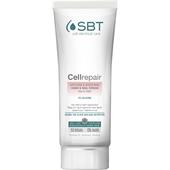 SBT cell identical careCellrepair Hand & Nail Cream Day & Night
€15.75
/ 100 ml
BP: €157.50* / 1000 ml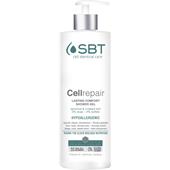 SBT cell identical careCellrepair Shower Gel
€15.75
/ 400 ml
BP: €39.38* / 1000 ml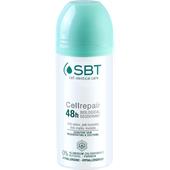 SBT cell identical careCellrepair Cell-Organic 48h Deodorant
€15.75
/ 75 ml
BP: €210.00* / 1000 ml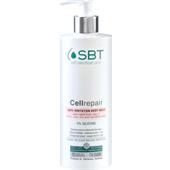 SBT cell identical careCellrepair Anti Irritation Body Milk
€15.75
/ 400 ml
BP: €39.38* / 1000 ml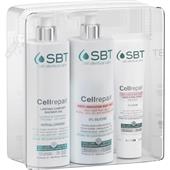 SBT cell identical careCellrepair Gift Set
€31.50
/ 1 pcs.
BP: €31.50* / 1 pcs.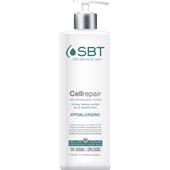 SBT cell identical careCellrepair Body Milk
€15.75
/ 400 ml
BP: €39.38* / 1000 ml
5/5 AggregateRating
Cellrepair Body care by SBT cell identical care
The Cellrepair body care product from SBT Sensitive Biology Therapy is a trend-setting cosmetic at the forefront of medical research. Exclusive formulas optimise your skin's natural balance and protects it in the long term. Thanks to the unique Cell Life Youther complex, even highly sensitive skin is provided with all the nutrients it needs for a healthy radiance. Skin's resistance is supported to as to keep it free of stress and irritation. You skin will radiate from within, maintain its elasticity and pamper you with long-lasting well-being. The rich Body Balsam of the exclusive SBT Sensitive Biology Therapy Cellrepair body care product relaxes and repairs dry and irritated skin. Calming Anti-Ageing Hand Cream and Lip Balm protect against skin ageing and leave behind a silky, well maintained feeling. The quickly absorbing and smoothing Body Milk increases your skin's resistance and stimulates cell regeneration. The innovative Cellrepair Deodorant calms irritated skin after shaving and protects you reliably from unpleasant sweat build up without aluminium whilst caring for skin smoothly and softly.
SBT Sensitive Biology Therapy - Dermatological cosmetics at the forefront of research
In co-operation with Prof. Volker Steinkraus (Founder of the Dermatologikum Hamburg), the Swiss La Prairie Group created the newest generation of body care products. Since very sensitive skin reacts to ingredients in anti-ageing product, luxurious formulas made of 97 per cent organic, skin-identical ingredients were developed. As a unique cosmetic worldwide, the products from this range are based on the innovative Cell Life Youther - a nutrient complex with immediate effect for increased cell regeneration and intensively cared for skin. The visible result is youthfully radiant skin full of life.