Celldentical by SBT cell identical care
Celldentical is a face care range from the SBT Sensitive Biology Therapy cosmetics manufacturer whic…
Learn more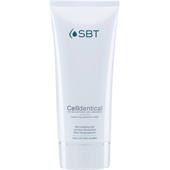 SBT cell identical careCelldentical Cleansing Milk
BP: €174.75* / 1 l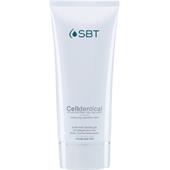 SBT cell identical careCelldentical Cleansing Gel
BP: €174.75* / 1 l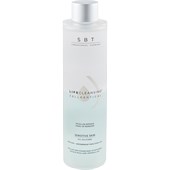 5/5 AggregateRating
Celldentical Facial care by SBT cell identical care
Celldentical is a face care range from the SBT Sensitive Biology Therapy cosmetics manufacturer which includes products for cleaning sensitive skin. When caring for sensitive skin, cleansing is of particular significance. In order to free skin of make-up reside and dirt, you should cleanse it twice a day. However, sensitive skin is often irritated by traditional cleansing products. It is therefore important to match these products to the natural demands of sensitive skin. With Celldentical, SBT Sensitive Biology Therapy has developed cleaning products which cleanse skin cells in a way that corresponds to their natural structure - the natural protective barriers that protect skin from environmental influences are not removed. At the same time the cosmetics product calms skin during cleansing and prepares it ideally for subsequent face care.
Mild cleaning products for sensitive skin
The cleaning products from the Celldentical range are available in various options meaning you can perfectly match your facial cleansing routine to your skin type and individual preferences. The mild, refreshing Cleansing Gel allows you to gently clean deep into the skin and is particularly suited to oily and impure skin. With the mild Cleansing Milk you can clean any type of skin. Even eye make-up can be gently removed. Anyone who wants a particularly rich cleansing product has find the right product with the SBT Sensitive Biology Therapy Cleansing Oil. The light, water-soluble Oil removes even stubborn make-up without effort, whilst not disturbing the hydro-lipid mantle of the skin. The Duo Aktiv Peeling contains chemical and mechanical active ingredients. It removes skin flakes and visibly reduces unevenness in the skin. A balancing Toner and Eye Make-Up Remover round off the face care range.