Fragile by SBT cell identical care
With the Fragile product range, the dermatological cosmetics manufacturer SBT Sensitive Biology Ther…
Learn more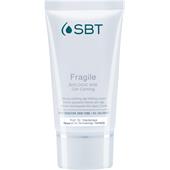 SBT cell identical careFragile Anti-Ageing Cream
BP: €1,199.00* / 1000 ml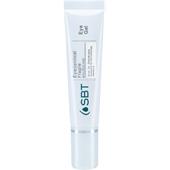 SBT cell identical careFragile Anti-Aging Eye Gel
BP: €3,330.00* / 1000 ml
5/5 AggregateRating
Fragile Facial care by SBT cell identical care
With the Fragile product range, the dermatological cosmetics manufacturer SBT Sensitive Biology Therapy offers calming everyday care for mature skin that stands up to the signs of ageing in a natural way with highly effective organic ingredients. Particularly sensitive skin that is liable to redness, irritation and itchiness and exhibits an uneven tone or small lines and wrinkles will be effectively treated with the products in this range. The skin's tone is evened out, skin is moisturised and lines and wrinkles are smoothed. For calming skin cells, this product rage offers (for face care) a refreshing Anti-Ageing Cream, a cleansing Micellar Solution, an Anti-Ageing Eye Gel and (for body care) a soap and sulphate-free Shower Gel.
SBT Sensitive Biology Therapy caring active ingredient and its characteristics:
The high-quality ingredients in the various cosmetics products in the Fragile range from SBT Sensitive Biology Therapy are activated and supported by the organic cell-identical Cell Life Youther caring active ingredient. This is a cell-nourishing solution that is identical to the body's own cell fluid in the human body and is completely in tune with the biology of human skin. The active ingredients in the face care product contains countless ingredients from the nutrient groups of minerals, trace elements, vitamins, amino acids and anti oxidants, which vitalises skin cells, and regenerates, renews and improves skin's structure. Sensitive skin is comprehensively protected, calmed and provided with essential nutrients. This cosmetics range from SBT Sensitive Biology Therapy ensures relaxed, calm skin as well as evenness thanks to its special, use-oriented products and managed the signs of ageing and symptoms of stress on your skin.
Cosmetics product from the care range:
* Anti Ageing Cream: This calming and refreshing face care product from this product range strengthens skin's resistance, combats problems such as dryness, tension, redness, burns and itchiness and ensures a soothing effect as well as well-being. * Celldentical Fragile Micellar Solution: this solution is a calming and micelle-enriched face care product for thoroughly cleansing your skin. Surface skin impurities and make-up are magnetically attracted by the Micellar Solution. As well as gentle, effective cleaning, skin is cared for and the cells' balance is protected.* Eyedentical Fragile: this Anti-Ageing Eye Gel combats dark circles, signs of fatigue, light swelling and tear sacs effectively, calms sensitive skin around the eyes, soothes tension and irritation, and smoothes lines and wrinkles. Skin is firmed up and provided with moisture and nutrients.* Fragile Shower Gel: the soap and sulphate-free Shower Gel with the Cell Life Youther active ingredients gently cleanses and cares for skin, calms skin irritation everywhere on your body, improves the skin's protective barriers, regenerates its hydro-lipid mantle and ensures healthy, soft skin.