Intensiv Cell Redensifying by SBT cell identical care
The face care products in the Intensiv range from the German dermatological SBT Sensitive Biology Th…
Learn more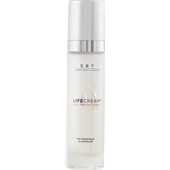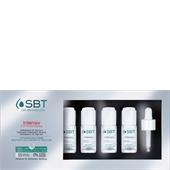 SBT cell identical careIntensiv Cell Redensifying LifeRadiance 28-Day Cure
€130.95
/ 1 pcs.
BP: €130.95* / 1 pcs.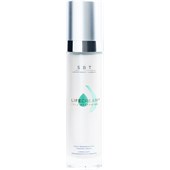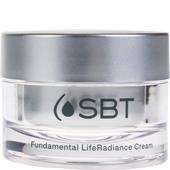 SBT cell identical careIntensiv Cell Redensifying Intensive Fundamental LifeRadiance Cream
BP: €3,299.00* / 1000 ml
5/5 AggregateRating
Intensiv Cell Redensifying Facial care by SBT cell identical care
The face care products in the Intensiv range from the German dermatological SBT Sensitive Biology Therapy cosmetics brand ensure improved cell thickness, combat a sallow complexion and reduced skin thickness, as well as giving skin volume and elasticity. This regenerating and caring cosmetics range offers you firm, full, supple and healthy face on your skin that will get a naturally beautiful and vital radiance thanks to its highly effective and valuable organic, skin-identical ingredients.
Ingredients and effects of the product range:
this range of care products from SBT Sensitive Biology Therapy contains particular activation and protection elements which positively influence the skin's matrix, intensify cell activity, regenerate skin elements, replace missing elements and which are activated by the elementary, cell-identical caring active ingredient, the Cell Life Youther. The organic Cell Life Youther caring active ingredient is a cell nourishing solution which is identical to human cell fluid and is 100 per cent in tune with your skin's biology. It vitalises and regenerates skin cells, optimises cell processes and ensures balance in the skin. The Cell Life Youther cell nourishing solution contains 55 natural, valuable ingredients from the areas of trace elements, minerals, vitamins, amino acids and anti-oxidants which have a positive effect on the skin and the organism. In the long term, these cosmetics products stimulate the on-going intra-cellular and extra-cellular synthesis of collagen. Skin on your face becomes firm and supple with this face care product, whilst counters get their youthful volume back.
Products:
The Intensiv range by SBT Sensitive Biology Therapy includes the following products:* the Intensiv 28 Day Radiance Cure, a regenerating Serum for face care with the Cell Life Youther active ingredients in a pure, concentrated form. It reactivates skin cells, fills up the energy reserves of mature skin again and ensures an enormous increase in collagen and elastin production. The Cure consists of 4 ampules, 10ml each, which are intended for a 28-day treatment.* The Radiance and Volume Serum, a volumising and regenerating Serum that also fills up fine lines and wrinkles from within and balances out moisture loss.