Perfekt by SBT cell identical care
The SBT Sensitive Biology Therapy Perfect face care range includes cosmetics products which
stren… Learn more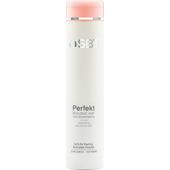 SBT cell identical carePerfekt CellLife Peeling Activated Powder
BP: €799.33* / 1000 g
5/5 AggregateRating
Perfekt Facial care by SBT cell identical care
The SBT Sensitive Biology Therapy Perfect face care range includes cosmetics products which strengthen the luminescence of skin cells and gives your complexion and even appearance. The cosmetics range starts with the causes of an irregular skin appearance. This include, for example, old acne scars, dark pigmented moles, redness and irritation - the typical reactions of sensitive skin. The face care range consists of the CellLife Aktiv Powder Peeling, an Anti-Ageing Cream with SPF 15 and the Radiance Dark Spot Corrector.
The global solution for an even complexion
The CellLife Aktiv Powder Peeling allows you to gently clean deep into your skin and ensure an illuminating complexion at cell level. The Powder Peeling is enriched with enzymes and doesn't contain any irritating polishing particles. If you lather up the Powder with water, the Cell Life Youther is activated - this is a cell-regenerating complex which keeps skin's natural balance in check and protects cells. The Anti-Ageing Cream from the SBT Sensitive Biology Therapy Perfect cosmetics range prevent skin damage caused by sun exposure with SPF 15 and regulates melanin production. Essential fatty acids and amino acids strengthen the skin's protective layer. Redness and acne scars are significantly reduced. At the same time, the production of hyaluronic acid, collagen and elastin is stimulated. The Radiance Dark Spot Corrector rounds off the SBT Sensitive Biology Therapy Perfect face care range. Enriched with valuable ingredients like natural polyphenols and vitamin C, the Serum has a correcting effect and improves the appearance of pigments moles and other skin irregularities. At the same time, skin cells are protected and regenerated.