Bio-Performance by Shiseido
The victory of science over the signs of the time. Bio-Performance is the most advanced way to extra…
Learn more!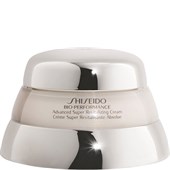 ShiseidoBio-PerformanceAdvanced Super Revitalising Cream
BP: €129.90* / 100 ml
The victory of science over the signs of the time. Bio-Performance is the most advanced way to extraordinary beauty. Shiseido sets new yardsticks in skin care and, with Bio-Performance, is positioning the anti-ageing technology at the highest level. Highly active active agents ensure a constant supply of pure energy to the skin, reduce small lines of environmentally related skin ageing and give a youthful complexion full of vitality. Bio-Performance is effective and consistently simple in its application. Bio-Performance gives youthful radiance, optimal moisture and successfully combats the signs of the time.