Lip make-up Make-up by Shiseido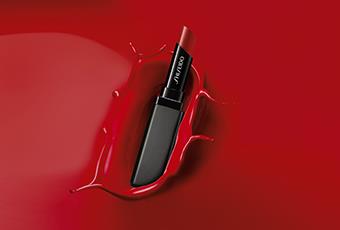 The Shiseido make-up lines offer fascinating sources of inspiration for repeatedly new, completely individual looks. The product range for your lips ranges from the classic lipstick to the extravagant Lack Rouge.
Lip make-up a la Shiseido - perfect for girls, ladies and trendsetters
The sympathetic creamy consistence and the vibrantly luminous colours of Perfekt Rouge conceal intensively nurturing active agents, which lastingly improve the condition of the skin of your lips. Thanks to the intensive brilliance of the colour and of the opulent shimmer, Shimmering Rouge make your lips seem soft and full, ugly vertical wrinkles disappear ""smoothly"". In the event of regular use, the optical fullness remains even after the lipstick has been removed.Luminizing Lip Gloss supplies clearly defined lips with delicately refined radiance in intensive gloss - as if made for a seemingly natural & youthful make-up.If you're looking for a lip make-up complete with pure drama, reach for Lacquer Rouge by Shiseido. Inspired by the art of traditional Japanese lacquer work, the rouge puts the spotlight directly on your lips!The perfectly adhesive, soft Smoothing Lip Pencil is recommended as the optimal companion for every type of lip make-up. It allows you to draw both exact lines and soft contours accurately!