Smooth by Wella
The EIMI Smooth collection from Wella gives your hair
a suppleness you can feel
. The haircare…
Learn more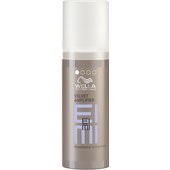 WellaSmooth Velvet Amplifier Styling Foundation
€13.75
/ 50 ml
BP: €275.00* / 1 l
5/5 AggregateRating
Smooth EIMI by Wella
The EIMI Smooth collection from Wella gives your hair a suppleness you can feel. The haircare series includes several products suitable for various uses and for various finishes. This means you can provide your hair with optimal care and prepare it for styling. The products from Wella Professional are especially suitable for frizzy or flyaway hair. The products tame your hair and provide a natural shine. In addition to better control in styling, the focus is on repairing damaged hair. Thus the series contains repairing active ingredients, which provide long-lasting nourishment for the hair as well as optimal protection from damage from heated styling tools. The EIMI hair products create the perfect base for fantastic styling and are available in various levels of hold.
Smooth hair with a natural gloss
The Wella EIMI Smooth products are recommended for all who want sleeker hair with a natural finish. If you often use a straightener or curling tongs, it's important to prepare your hair properly before styling. This way, your hair will be optimally protected from heat and the result will be a wonderfully smooth, flawless style. The 2-phase Thermal Image spray offers reliable heat-protection, has hold level 2 and nourishes the hair wonderfully. The protective BB lotion Perfect Me repairs the hair and makes it easier to style. The smoothing balsam Flowing Form helps against frizz, protecting the hair from drying out during styling with heated tools and offering flexible control.