Deadsea Plants by Ahava
Deadsea Plants is a body care line for both men and women from Ahava, a brand that prefers using nat…
Learn more
AhavaDeadsea Plants Shower & Bath Oil
€20.95
/ 250 ml
BP: €83.80* / 1000 ml
5/5 AggregateRating
Deadsea Plants Body care by Ahava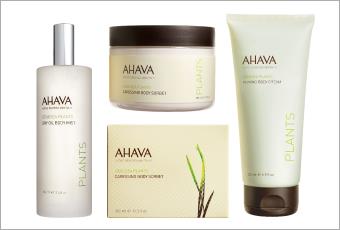 Deadsea Plants is a body care line for both men and women from Ahava, a brand that prefers using natural ingredients in the selection of its beauty products. The Firming Body Lotion, the Dry Oil Body Mist and the Caressing Body Sorbet contain hydrating and nourishing plant extracts from the region around the Dead Sea, which unfurl their supreme effects upon the first application. Damaged and irritated skin is immediately cooled and soothed. The skin is simultaneously invigorated and premature ageing comes to a halt.
Gentle body care with nourishing products from the Dead Sea
The skin care products from Ahava's skincare line Deadsea Plants are immediately absorbed and provide the skin with minerals, nutrients and vitamins. Aloe Vera and Camomile calm and cool sensitive and irritated skin. Mandarin and Cedar Wood produce a fresh and sensual fragrance. The Ahava skincare range for women and men is allergy-tested. Deadsea Plants is suitable for sensitive skin types and may be used for everyday skincare.