Deadsea Salt by Ahava
The Ahava brand is known in more than 30 countries as the specialist for
Dead Sea Beauty Products… Learn more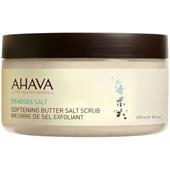 AhavaDeadsea Salt Softening Butter Salt Scrub
€26.95
/ 220 ml
BP: €122.50* / 1000 ml
5/5 AggregateRating
Deadsea Salt Body care by Ahava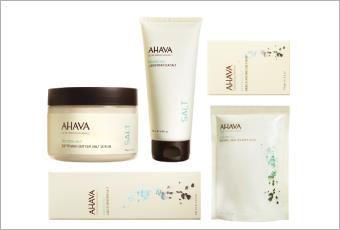 The Ahava brand is known in more than 30 countries as the specialist forDead Sea Beauty Products. As early as 1988 the prestigious company researched the effects of the Dead Sea's water, its mud and the water's ingredients, recommended by dermatologists as a spa treatment for their patients. Thanks to the skincare products from Ahava customers living far way from this wild oasis can still benefit from the pure and healing-rich aspects of its natural treasures.
Revitalising and strengthening skincare from the Dead Sea
In the product line Deadsea Salt the salt from the Dead Sea takes centre stage as it is exceptionally rich in minerals. As a skincare product it invigorates the skin in a natural way, eases muscle tension and creates a feeling of well-being. The product line Deadsea Salt consists of a bar of soap, bath salt, a salt peeling and liquid salt. When using these the skin is detoxified and the strengthened which in turn creates a pleasant feeling of freshness and an improved appearance of the skin.