Deadsea Water by Ahava
The Ahava Dead Sea Water body care range is a harmoniously matched product range based on
mineral… Learn more!
Deadsea Water Body care by Ahava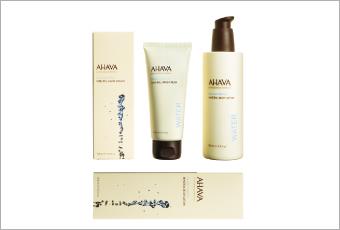 The Ahava Dead Sea Water body care range is a harmoniously matched product range based on minerals from the Dead Sea. The individual products in the range can be used like building blocks to create a complete skincare system. Body lotion is just as part of the range as foot or hand creams, a peeling or a refreshing shower gel. Cleansing and nourishing, from refreshing showers to soft creams, form the basis of this first-class cosmetics range with the salts from the Dead Sea.
Precious minerals from the Dead SeaBeauty products from the Ahava Deadsea Water range start in the shower. Ahava Shower Gel is refreshing while at the same time removing excess dead skin cells with its finest minerals. This exfoliator with that extra portion of minerals from the Dead Sea is ideal when a more rigorous peeling is desired. After showering apply the lightly scented Mineral Body Lotion all over using gentle strokes. To take care of the skin on your hands and feet Ahava offers a dedicated Mineral Foot Cream and a dedicated Mineral Hand Cream. All products in the Deadsea Water body care range are free from synthetic perfumes and marry together the power of Dead Seawater minerals.