Mineral Botanic by Ahava
With Mineral Botanic from Ahava women cleanse and nourish their whole body with the nourishing activ…
Learn more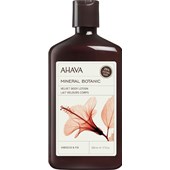 AhavaMineral BotanicHibiscus FigVelvet Body Lotion
€18.00
/ 500 ml
BP: €36.00* / 1 l
5/5 AggregateRating
Mineral Botanic Body care by Ahava
With Mineral Botanic from Ahava women cleanse and nourish their whole body with the nourishing active ingredients of selected plant extracts. The body care range contains extracts of Lavender & Honeysuckle, Hibiscus & Fig and of Lotus Flower & Chestnut. In addition, the skincare products in these ranges are enriched with many vitamins, nutrients and minerals. Mineral Botanic provides the skin with plenty of moisture and is calming and relaxing. So that the feeling of well-being lasts, the whole body is enveloped with the wonderful scent of plant extracts.
Sensitive skin is nourished gently with minerals and vitamins
The beauty products in the sophisticated skincare range for women is completely absorbed by the skin without leaving any trace. The skin is provided with vitamin A, B and C and is protected against harmful environmental influences. By combining the individual Ahava skincare products the effects are optimised. The body care range from Ahava is dermatologically tested and suitable for allergy sufferers. Mineral Botanic is idea for women with sensitive and mature skin for their daily skincare regime.