Eternity Aqua for men by Calvin Klein
Casual elegance – the sophisticated side of the ETERNITY man. Self-assured and manly. Natural confid…
Learn more!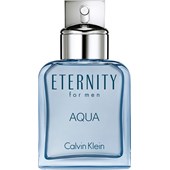 Calvin KleinEternity Aqua for menEau de Toilette Spray
BP: €89.90* / 100 ml
Eternity Aqua for men Men's fragrances by Calvin Klein
Casual elegance – the sophisticated side of the ETERNITY man. Self-assured and manly. Natural confidence and effortless charm... ETERNITY AQUA was inspired by the freshness of the ocean and the elegance of a self-assured, sophisticated man. ETERNITY AQUA is a modern, aquatic and woody fragrance that leaves a lingering impression of a fresh, humid wave of cool cucumber. The heart of the fragrance reflects the timeless elegance of lavender, and together with sandalwood has a strong power of attraction. Dewy green leaves accompany each accord and lend the fragrance its aquatic depth.