No. 1 Men by Clive Christian
The Crown Perfumery is a British establishment with a long and proud history. After all, it was once…
Learn more
No. 1 Men Men's fragrances by Clive Christian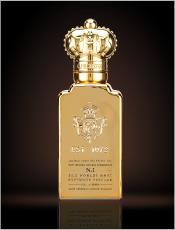 With No. 1 Men, Clive Christian has delivered a truly exclusive men's fragrance.
The Crown Perfumery is a British establishment with a long and proud history. After all, it was once supplier to Queen Victoria herself. Since being taken over by Clive Christian in 1999, it has experienced a new and exclusive revival. He delved deep into the archives of the perfumery and found many, long-forgotten recipes for wonderful fragrances. These served in part as a foundation for new perfumes created by the historical establishment. Among others, Clive Christian created the world's most expensive perfumeand named it accordingly: No 1. Men.

No 1 Men is a men's fragrance that draws attention to itself with its striking and powerful notes. Old Indian sandalwood dominates this perfume and lends it an uncompromising note. This men's fragrance is reinforced by sweet lime, grapefruit, cardamom, bergamot, allspice oil, thyme, cedar wood, tonka beans and mandarin, to name but a few. This is not a perfume for just any man, it is the scent of luxury, strength, a fragrance for gentlemen who know exactly want they want from life, and are happy to show it.