Sensacea by DADO SENS
Sensacea by DADO SENS is a particularly mild and gentle range of care and cosmetic products for wome…
Learn more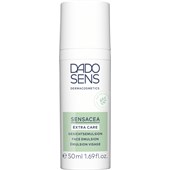 4,5/5 AggregateRating
Sensacea Skin care by DADO SENS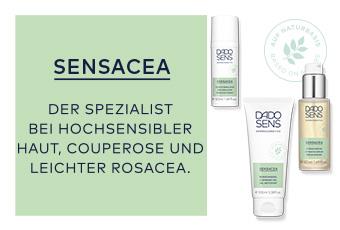 Sensacea by DADO SENS is a particularly mild and gentle range of care and cosmetic products for women that deliver sensational results for individuals with sensitive skin and skin that is prone to couperose and rosacea. Sensitive skin is soothed, cooled down and intensively moisturised. The formula in this range of cosmetic products contains highly effective nourishing substances derived from liquorice root extract, aloe vera and purple red algae. When used regularly, your complexion is visibly improved and is protected from irritation caused by harmful environmental effects.
Daily care and protection for skin that is prone to couperose and rosacea - DADO SENS Sensacea
The facial care range by DADO SENS consists of many different products, including the Mild Cleansing Gel and Soothing Face Emulsion. The cosmetics institution has also developed a highly concentrated facial serum providing intensive care and nourishment. The Mild Cleansing Gel gently removes make-up residue from your facial skin. The Soothing Face Emulsion and Serum boost your facial skin's moisture retention properties and develop a soothing and nourishing effect. At the same time, the skin's natural protective barrier is strengthened. The Sensacea care range is perfectly suited for women with sensitive and normal skin.