Powder brush by Da Vinci
Whether at home or on trips - applying make-up should be as easy as possible and all your tools shou…
Learn more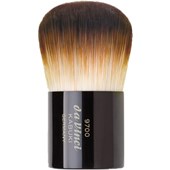 Da VinciPowder brush Powder Brush with Travel Box
BP: €33.71* / 1 pcs.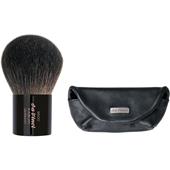 Da VinciPowder brush Pocket Powder Brush, extra-fine dark-brown mountain goat hair
BP: €47.96* / 1 pcs.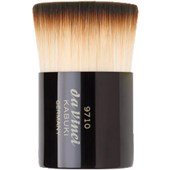 Da VinciPowder brush Foundation and Powder Brush in a travel box
BP: €33.71* / 1 pcs.
5/5 AggregateRating
Powder brush Kabuki by Da Vinci
Whether at home or on trips - applying make-up should be as easy as possible and all your tools should only take up a little bit of space in your handbag or suitcase. In this respect, the Powder Brush from Da Vinci's Kabuki range is the perfect choice. The handy brush comes with a very short shaft and a variety of natural bristles which allow you to perfectly apply powder in a few strokes. Da Vinci offers a matching leather pouch for this Powder brush, allowing you to securely store it immediately after use.
Apply make-up easily and professionally with Da Vinci
With its travel box, Kabuki is the perfect Powder Brush for on the go but it also helps you perfectly apply make up in your own bathroom every day. If you want your complexion, eyes or lips to look more attractive after applying powder through the use of other cosmetics, then the Nuremberg-based company has other quality brushes that will complement the Kabuki range at attractive prices. Discover these in the various categories of our Shop where you will of course also find cosmetics and care products from many other renowned brand manufacturers.