Foundation brush by Da Vinci
Applying foundation provides an even base for other make-up products and helps every lady's skin app…
Learn more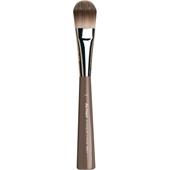 Da VinciFoundation brush Foundation Brush, extra-fine synthetic fibres
BP: €28.95* / 1 pcs.
4,5/5 AggregateRating
Foundation brush Synique by Da Vinci
Applying foundation provides an even base for other make-up products and helps every lady's skin appear smooth and free of redness. With a special Foundation Brush, cosmetics can be applied quickly and practically to the face, something for which the internationally renowned Da Vinci brand has a variety of long-lasting brushes. Produced with synthetic fibres, a Foundation Brush from the Synique range ensures a long life and helps to precisely and evenly apply make-up without the danger of the brush clumping together.
Choose the right brush for every purpose with Da Vinci Synique
After using the sleek and handy Foundation Brush from Da Vinci, we recommend putting your faith in other accessories from the popular brand to aesthetically shape eyes, complexion or lips in a simple way. A quick glance at our range will show you the full variety offered by the brand which offers many other product ranges alongside the Synique range at attractive prices. When applying make-up, put your faith in Da Vinci's professional equipment which is waiting for your in our range at an attractive price!