Men's scissors by ERBE
In regular cosmetics, men face specific challenges that require the use of special body care tools. …
Learn more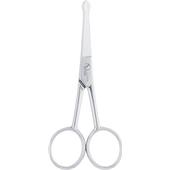 ERBEMen's scissors Beard and nose hair trimmers
BP: €19.90* / 1 pcs.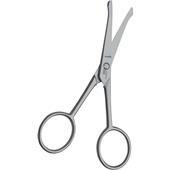 ERBEMen's scissors Beard and nose hair trimmers
BP: €28.45* / 1 pcs.
5/5 AggregateRating
Men's scissors Erbe by ERBE
In regular cosmetics, men face specific challenges that require the use of special body care tools. In addition to a classic shave, often it is also necessary to trim individual beard hairs precisely, and the removal of nose hair becomes an important cosmetic task as we age. With special men's clippers, which the German company Becker Manicure offers in the Erbe collection, typical masculine facial care tasks can be performed precisely and professionally. Barbers and beauty salons have also long trusted special men's clippers, which can be found in our range as original quality products from Becker Manicure in addition to numerous tools for cosmetics and body care.
Manage beard and nose hair precisely with men's clippers
Unlike classic nail scissors and other tools, special men's clippers have a rounded cutting edge. With their small dimensions, they are perfectly suited to small areas such as nostrils, and with their rounded shape, they prevent unintended injury to the sensitive nasal mucous membrane. All variants offered by Becker Manicure in its Erbe collection are based on the Solingen brand manufacturer's decades of experience and are perfectly suited to all men's needs. With a wide range of tools for body care and cosmetics, men of all generations can face the day with a groomed appearance, at work and in their free time.
Get great value beauty tools from Erbe and others
With the Erbe product line, Becker Manicure offers a wide selection of clippers and files that are used in all areas of modern cosmetics and help men and women achieve a groomed appearance. Men's scissors and other tools are often used in a professional setting, but buying them for your own bathroom pays off too. Our Online Shop welcomes you and offers the entire Erbe product line from Becker Manicure at an attractive price. This also makes it easy for you to remove nose or beard hairs with a tool perfectly suited to this.