Accessories by ERBE
The Erbe collection is one of the top sellers from the traditional Becker company from Solingen. Fir…
Learn more!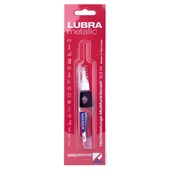 ERBEAccessoriesClippers and scissors maintenance oil
BP: €126.33* / 100 ml
Accessories Erbe by ERBE
Becker Manicure accessories don't just meet your nail care needs
The Erbe collection is one of the top sellers from the traditional Becker company from Solingen. First-class blades and files have been produced there since the 1930s. Increasingly elaborate accessories have been added over the course of time. It has been ensured that superfluous design flourishes are left out during development, so that functionality is always the top priority. The results is extensive accessories with which you can perfect your hand care, foot care, and more. For example, the Erbe collection by Becker Manicure also features a cream spatula or razor blade sharpeners. Also featured are the beard and nose hair trimmers for men, while ladies will be delighted about the high-quality eyelash curlers. But it isn't just your own personal care that you can improve with Becker Manicure accessories. Becker has even thought about care for shoes and other leather items, such as toiletries bags or manicure sets. This is why the range also includes a leather care accessories set. However, perhaps you also need a glass file in a practical case. Becker has one for you.