Cosmetics by ERBE
With professional cosmetic tools from Becker Manicure, the skin on your body, face, hands, feet, fin…
Learn more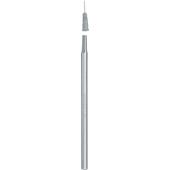 ERBECosmetics Holder for disposable milia remover
BP: €9.45* / 1 pcs.
5/5 AggregateRating
Cosmetics Erbe by ERBE
With professional cosmetic tools from Becker Manicure, the skin on your body, face, hands, feet, fingers and toes is optimally prepared for every finish. The tools from the Erbe collection are almost exclusively made of stainless steel, and are absolutely rust-proof. Therefore, the professional tools can also be disinfected and sterilised with all conventional cleaners. They can also be cleaned in an ultrasonic bath. To ensure safe, slip-proof handling of the beauty tools, the surface of the handle is ribbed or rough. Screw-on knives and straps with precision threads in holders and tools enable many different uses and applications. The milia and single-piece knives for the safe and permanent removal of blackheads and milia are sharpened in special procedures and therefore have a very long lifespan. Those who do not wish to disinfect or sterilise the tools have the option to purchase disposable items from the Erbe collection. The disposable items from Becker Manicure are sterile-packed and suitable for single use.
Safely remove uncomfortable skin imperfections with beauty tools from Becker
For many decades, Becker Manicure's primary focus has been on developing and manufacturing high-quality beauty tools for haircare, skincare, and body care. In all stages of production, the traditional German manufacturer from Solingen places exceptionally great value on function and precision. For this reason, many stages - such as sharpening, welding and assembly - are purely performed by hand. In addition to scissors, files, and manicure and pedicure tools, knives, straps, and spatulas are also offered to optimally prepare the skin for all treatment. The tools in the Erbe collection are modelled on surgical tools and, for this reason, also deliver the best results. The beauty tools from Becker Manicure can be used at home and in the professional sector, and are a great complement to all grooming equipment.