Cuticle trimmers by ERBE
Attractive fingernails and toenails depend on more than just nail design. In a proper manicure or pe…
Learn more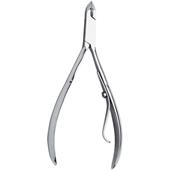 ERBECuticle trimmers Cuticle trimmers, 10 cm, 4 mm cutting edge
BP: €31.30* / 1 pcs.
5/5 AggregateRating
Cuticle trimmers Erbe by ERBE
Attractive fingernails and toenails depend on more than just nail design. In a proper manicure or pedicure, the skin surrounding the nail bed should also be treated to achieve optimum cosmetic treatment and an attractive appearance. With the cuticle trimmers that the quality Solingen company Becker Manicure offers in its Erbe product line, overhanging skin and other irritations can be easily removed to achieve flawless cuticles. Our range features various products from the Erbe product line that are the optimum aids at home or in a professional nail studio.
Round off manicures and pedicures perfectly with cuticle trimmers
Unlike other nail scissors that take up a fixed place in your cosmetics regime, cuticle trimmers are characterised by their elongated shape and a small cutting edge. With this design, it is possible to reach overgrown skin within the smallest space and remove these from the toenail and fingernail area. With a precise cut, cuticle trimmers from Becker Manicure immediately provide an attractive, consistent skin appearance so that in many cases, no further treatment is required. After this, nail polish can be applied and other contemporary cosmetic procedures can be performed without interruption.
Use Becker Manicure for optimum nail care
Using cuticle trimmers is just one of many ways in which you can promote the beauty of your nails with high-quality tools from the renowned brand. Our shop stocks the entire range of the manufacturer's quality tools - and it's not just the Erbe range that could bring something to your manicures and pedicures. By selling online, we are able to offer cuticle trimmers and the like at extremely attractive prices. Of course, we also sell nail polish or body care products that you can use alongside Becker Manicure's Erbe range and that help you achieve an attractive appearance for every occasion.