GIVENCHY POUR HOMME by GIVENCHY
Givenchy Pour Homme strengthens elegance, creativity and intuitive style. A gleaming, elegant and li…
Learn more!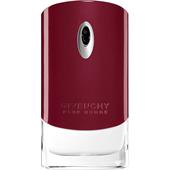 GIVENCHYGIVENCHY POUR HOMMEEau de Toilette Spray
BP: €75.95* / 100 ml
GIVENCHY POUR HOMME Men's fragrances by GIVENCHY
Givenchy Pour Homme strengthens elegance, creativity and intuitive style. A gleaming, elegant and lively fragrance which unleashes a particular personality and a strong character. Pour Homme wearers are gentlemen - that much should be clear from the advertisement for the ninth Givenchy men's fragrance, which appeared on the market in 2002: a man laying his shirt on the floor so that his female companion doesn't get dirty when getting out of the car. Charismatic, elegant, creative, spontaneous, intuitive.