Guess Perfume
The company Guess was founded in 1981 and is predominantly known in the fashion world for casual fas…
Learn more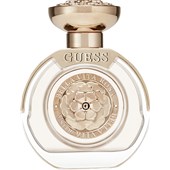 GuessBella VitaRosaEau de Toilette Spray
BP: €1,116.67* / 1000 ml
4,5/5 AggregateRating
Guess Fragrances
The company Guess was founded in 1981 and is predominantly known in the fashion world for casual fashion and high-quality jeans. The manufacturer, who used to exclusively focus on fashion, is meanwhile also represented in the fragrance world - Guess offers several perfumes for men and women. Among others, 6 prominent lines can be found in the multi-faceted assortment of the brand, including "Seductive Homme" and "Seductive Blue Homme" for men, which unite seductive ingredients with fresh essences in order to create a sexy and modern scent chord.
From jeans to perfume
The brand is also markedly present for ladies. Meanwhile, the lines "Seductive I'm Yours", "Seductive" and "Girl Belle" are available, among others. Moreover, the fragrance assortment from Guess is always expanded in order to offer more well-smelling alternatives for men and women, which emphasise their character and create an individual and personal scent note. Most collections consist of not only the eponymous perfume, but also various additional products, such as lotions, creams and other skin care products. These can also be perfectly combined with one another.