Iris des Champs by Houbigant
The Iris des Champs fragrance range by Houbigant comprises two different creations that experiment w…
Learn more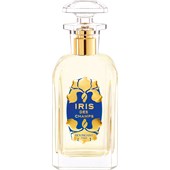 HoubigantIris des Champs Eau de Parfum Spray
€120.00
/ 100 ml
BP: €1,200.00* / 1000 ml
Iris des Champs Women's fragrances by Houbigant
The Iris des Champs fragrance range by Houbigant comprises two different creations that experiment with the same scent at different levels of intensity. This would on the one hand be the classic Eau de Parfum Spray here, which is however supplemented at the same time by a pure and unaltered mixture. The latter version is suitable for all particularly demanding people with a nose for fragrances for whom a creation by Houbigant is not sufficient on its own. These individuals will find a breathtaking fragrance with unbelievable intensity here and a long-lasting nature that is almost unmatched to date. This luxury creation is not just a highlight on your skin, but also expresses a feeling of luxury and aspiration in your bathroom too. The Iris des Champs Eau de Parfum Spray also smells delightful and has a really feminine effect too, and is also kind to your wallet at the same time, at least proportionally anyway.
The scent of Iris des Champs
The women's fragrances by Houbigant are the measure of all things, something which is hardly surprising given the history of the brand. Even aristocracy and the Kings of France made use of the talented hands of the perfumery family, which is still held in high regard even in the 21st century. This creation makes use of typical female fragrances derived from delicate lily of the valley and pink pepper in the top note, whereby bergamot adds a zesty and vibrant element to proceedings. The heart note has an even more feminine effect, as it is here that the incisive feminine fragrances involving rose, jasmine, ylang ylang and iris come together. The finale of the creation can be found in the base note, where a variety of woods combine with sweet vanilla, undisturbed musk, sandalwood and amber. The result is a really spectacular fragrance.