Orangers en Fleurs by Houbigant
The French luxury brand Houbigant has managed to achieve really special success with its Orangers en…
Learn more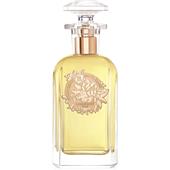 HoubigantOrangers en Fleurs Eau de Parfum Spray
BP: €1,599.50* / 1000 ml
5/5 AggregateRating
Orangers en Fleurs Women's fragrances by Houbigant
The French luxury brand Houbigant has managed to achieve really special success with its Orangers en Fleurs range. The inspiration for the fragrance in this range is something as simple and contemporary as the orange tree, which lays the foundations for a breathtakingly fresh and mesmerising fragrance thanks to its richness and fruity nature. Due to the fact the fruits and flowers bloom at the same time on the orange tree, the Orangers en Fleurs fragrance also exudes a multi-faceted range of different chords that develop into an exciting interplay between fruity and fresh nuances.
Luxury in its purest form - Houbigant women's fragrances
The perfume was created by the French perfumer Jacques Flori, combining cedar wood with musk in its base. The heart of the composition contains nutmeg, ylang ylang and tuberose, with the fruity and mercurial top note of jasmine, rose and orange blossom ultimately adding the perfect touch to the fragrance whilst representing the overture at the same time. The elegant composition is the symbol of perfection, which has rightly been expected of Houbigant for more than 200 years. The range is complemented in a worthwhile manner by the Body Lotion and Body Cream, both of which can of course be combined with each other with ease.