Bellflower, Tangerine, Pink Pepper by Korres
The Greek Korres brand emerged from a homeopathic chemist shop in Athens. These roots are reflected …
Learn more!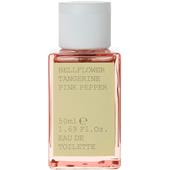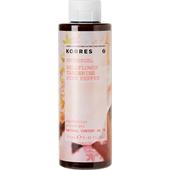 Bellflower, Tangerine, Pink Pepper Fragrances by Korres
The Greek Korres brand emerged from a homeopathic chemist shop in Athens. These roots are reflected in the natural composition and the quality criteria of all body care products. The special needs of men are also considered in specific cosmetic lines. The men's fragrances devote themselves to the crowning glory with essences and aromas that benefit from the power of nature. At a result, the selected perfume allows the personal characteristic to be underscored.
Characteristic fragrances with natural essences
This enables you to select from a portfolio of very differently composed fragrances. The Greek label has warm and sensitive notes in mind in a perfume with cedar wood and green tea. A peppery melange of bergamot and coriander brings freshness and decisiveness. The seemingly minimalistic flacon already indicates that the label's qualitative philosophy as regards natural cosmetics is also in the foreground of the fragrant finish. Discover the men's fragrances by Korres in our online shop and, while doing so, take a look at the men's cosmetics for everyday body care or shaving.