Encre Noire Sport by Lalique
Men's fragrances, such as the
Encre Noire Sport
fragrance by Lalique, are a joy to behold. It…
Learn more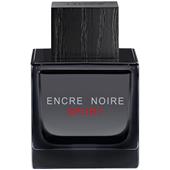 LaliqueEncre Noire Sport Eau de Toilette Spray
BP: €899.50* / 1000 ml
5/5 AggregateRating
Encre Noire Sport Men's fragrances by Lalique
Men's fragrances, such as the Encre Noire Sport fragrance by Lalique, are a joy to behold. It doesn't matter whether you use the Shower Gel or Eau de Toilette Spray: our range includes many different products with the same fragrance nuances as the perfume. All men's fragrances by Lalique will impress you with their elegant and dynamic design. The combination of refinement and modernity produces its characteristic features. The woody notes of our fragrances make them the perfect everyday companions that exude a touch of masculinity!
Versatile range with a sensual character
Our products from the Encre Noire Sport range will impress you with their aromatic variety. A really interesting character is created using essences of grapefruit, bergamot, lavender and cypress. Hints of nutmeg and vetiver give the fragrance a floral touch. Cashmere wood and musk help create a woody undertone that stands for the modern and unwavering approach of men!