Amethyst Eclat by Lalique
This new perfume by
Lalique
appears just like a bush full of juicy sweet berries and roses in…
Learn more!
Amethyst Eclat Women's fragrances by Lalique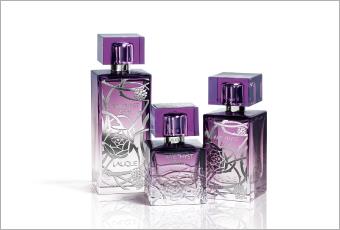 A juicy scent of berries refined with woody notes: Amethyst Eclat
This new perfume by Lalique appears just like a bush full of juicy sweet berries and roses in the heart of a forest. As a highlight of women's fragrances by Lalique, Amethyst, his source of inspiration, is at the forefront of the most coveted fragrance creations, just like a true icon. The new Amethyst Eclat interpretation, also created by the perfumer Nathalie Lorson, is in no way inferior to its predecessor. A sprawling peony is at the heart of the project, just like in the art deco motifs by René Lalique. As a symbol of love, prosperity, luxury and elegance, it creates a myth that can be easily connected to the way in which a woman shows her tender side. It is not for nothing that the peony is adored in China as the "queen of flowers". It develops its fine scent working side by side with the sensual fragrance of Bulgarian rose and magnolia. The heart of this fragrance composition is accompanied in a woody manner by eroticising musk and exotic kingwood. The addition of accents from the nashi pear is just as exceptional within the world of women's fragrances. The juicy and sweet berry notes round the fragrance off, helping to give it its fruity aroma. Intoxicating and exceptional, Amethyst Eclat is slightly less audacious than Eclat overall. Enveloped in a delicate glazed flaçon with colours that appear to hover between violet and black, the fragrance is also well represented from a visual perspective too. Chased peony refers to the heart of the perfume, adorning this square flaçon and creating a real highlight within the perfume gallery of women's fragrances. The perfume clings to your skin in a manner that is as seductive as the night, mesmerising both its wearer as well as any individuals located in the vicinity.