Infinite Bronzer by Lancaster
The Infinite Bronzer from the House of Lancaster is a high-quality sun make-up for women, which prot…
Learn more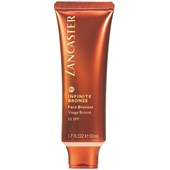 LancasterInfinite Bronzer Face Bronzer Sunny
€15.00
/ 50 ml
BP: €300.00* / 1000 ml
4,5/5 AggregateRating
Infinite Bronzer Sun make-up by Lancaster
The Infinite Bronzer from the House of Lancaster is a high-quality sun make-up for women, which protects against harmful UVA and UVB ray while giving a delicate tan at the same time. The make-up with highly developed protective filters is just as suitable for sunbathing on the beach as for extensive mountain climbing tours in the snow when exposed to intensive solar radiation. The high-quality ingredients in the make-up ensure a beautiful complexion for the face and décolleté, while completing the skin protection at the same time. Thanks to the slightly fluid texture, the Infinite Bronzer is almost completely absorbed into the skin, making it soft and supple. The facial skin receives a naturally looking even tan.
The make-up can be used every day
The Lancaster sun make-up is massaged evenly into the face, neck and décolleté in circular movements. The fluid texture allows the make-up to be easily distributed, thus ensuring a regular complexion. The Lancaster Infinite Bronzer is a sun make-up that can be used every day and is suitable for all normal skin types.