Fuoco Infernale by Linari
Unique room and unisex fragrances are some of the specialities of the international company Linari, …
Learn more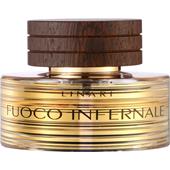 LinariFuoco Infernale Eau de Parfum Spray
BP: €1,689.50* / 1000 ml
5/5 AggregateRating
Fuoco Infernale Unisex fragrances by Linari
Unique room and unisex fragrances are some of the specialities of the international company Linari, which has a particularly high-quality and exciting collection for you in Fuoco Infernale. The exquisite golden design gives you an idea of the sophisticated combination of essences that Fuoco Infernale combines and that makes the perfume the right choice for life's special occasions. Carnation, marjoram, cinnamon, and many other scent give a floral, aromatic character to the fragrance, in which Linari has created something quite unique and that you too can enjoy.
Get fine unisex fragrances from Linari at a great price
Like every perfume from the renowned brand, Fuoco Infernale is available not just as a classic Eau de Toilette Spray - you can also enjoy the fragrance experience as a soap in your everyday body care regime. If you don't want to miss out on the special fragrance of the product range on journeys either, a special case helps you to transport the bar of soap safely. Like the classic perfume and other unisex fragrances from the brand, you can also order this from our online range at a great price!