Angelo di Fiume by Linari
The Angelo di Fiume range was created for the brand in 2008 by the perfumer Mark Buxton. It has a ve…
Learn more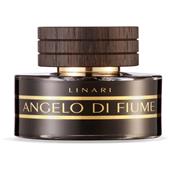 LinariAngelo di Fiume Eau de Parfum Spray
BP: €1,539.50* / 1000 ml
5/5 AggregateRating
Angelo di Fiume Unisex fragrances by Linari
The Angelo di Fiume range was created for the brand in 2008 by the perfumer Mark Buxton. It has a very sensual, slightly mysterious fragrance, which was inspired by the Italian landscape and romantic sunsets by the sea. This is also apparent from the elaborate composition, as the perfume has top notes of Italian orange, sweet wild raspberries, and fruity wild cherries. The fruity experience is rounded off by a touch of zesty bergamot, before the fragrance moves on to the middle note.
Sensual unisex fragrances with a touch of romance
The perfume Angelo di Fiume has a middle note of oriental ylang ylang, delicate rose, sweet caramel, and lots of jasmine. To enhance the sensual impact of the unisex fragrances, the base note is deliberately natural and warm. Here, Linari combines Bourbon vanilla with benzoin resin, white musk, patchouli, and sandalwood. The creation comes in a black and gold bottle, set off by a brown wooden lid. The brand also offers a high-quality soap with matching box, as it does for almost all of its ranges. This makes the skin soft and hydrates it.