Porta Del Cielo by Linari
The Porta Del Cielo creation from the house of Linari is in the unisex fragrances category. The perf…
Learn more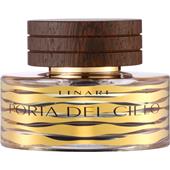 LinariPorta Del Cielo Eau de Parfum Spray
BP: €1,689.50* / 1000 ml
5/5 AggregateRating
Porta Del Cielo Unisex fragrances by Linari
The Porta Del Cielo creation from the house of Linari is in the unisex fragrances category. The perfume was created by perfumer Mark Buxton on behalf of the perfume house, and forms an interesting interaction between aromatic and very opulent, fruity chords. The reasons for this include bergamot in the top note, which is combined with freesia, davana, pineapple, and raspberry. The magnificence of the perfume is revealed even in the heart, where Linari enhances the interaction further by combined unmistakably smooth violets with enchanting lily of the valley and soothing nuances of cashmere wood.
Unforgettable, interesting, and always right
The base of Porta Del Cielo surrounds labdanum from Andalusia with white musk and warm ambergris. Tonka bean, sweet vanilla, and benzoin resin complete this creation that men and women can rely on for every occasion. The perfume comes in an elegant bottle with a golden pattern and wooden lid. The high-quality unisex fragrances are also available in the range as Bar Soap Black with a matching soap box. This way, the high-quality skin care product can be stored safely.