Notte Bianca by Linari
Exciting unisex fragrances and multi-faceted scented candles are the trademark of the international …
Learn more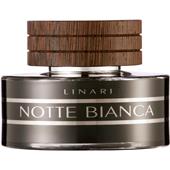 LinariNotte Bianca Eau de Parfum Spray
BP: €1,539.50* / 1000 ml
4,5/5 AggregateRating
Notte Bianca Unisex fragrances by Linari
Exciting unisex fragrances and multi-faceted scented candles are the trademark of the international company Linari, which wants to win you over with the exciting perfume of the Notte Bianca collection. In a stylish bottle with a wooden lid, notes of bergamot and grapefruit ensure sleepless nights, so to speak, and make night become day! The perfume, which is aromatic and fruity at the same time, sprays easily and, with its distinctive character, is one of the most popular unisex fragrances in Linari's wide range.
Order perfume and other products from Linari conveniently online
If you want to make Notte Bianca part of your everyday hygiene, you should complement the Eau de Toilette Spray with the soap from the quality brand. You can order these individually in a practical travel case so that the Linari unisex fragrances don't lose their charm when you're on the go, and also to enable you to transport the bar of soap from the Notte Bianca collection without problems. Like all perfumes and accessories from the brand, get the Eau de Toilette and soap from the collection from us at a great price - it could become your favourite fragrance!