Acqua Santa by Linari
With the perfume
Acqua Santa
, the international brand Linari offers the proverbial holy water…
Learn more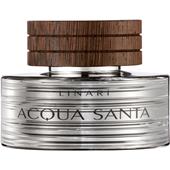 5/5 AggregateRating
Acqua Santa Unisex fragrances by Linari
With the perfume Acqua Santa, the international brand Linari offers the proverbial holy water, which it also invites you to wear on special occasions. Of course, no real holy water is used for the unisex fragrances from the popular brand, but Acqua Santa does have a crystal-clear character and will win you over with its subtle, floral fragrance. This is down to a base of bergamot and cassis, while patchouli rounds the perfume off. This means that the fragrance from Linari is sweet and spicy at the same time, and satisfies the tastes of both men and women.
Dive into the world of unisex fragrances with Linari
If you want to experience the extraordinary perfume Acqua Santa in many different ways, you can also get the matching soap from the brand manufacturer in addition to an Eau de Toilette Spray. Everyday cleansing with this soap leaves behind its especially fresh fragrance, while a special travel case ensures you can transport the fragrant soap easily. If you are looking for other unisex fragrances from Linari's wide range or want perfumes from other brand manufacturers, you are certain to make a find at an attractive price in our online range!