limitierte Editionen/Sets by Narciso Rodriguez
Narciso Rodriguez is an absolute master of his craft. Thanks to his work in New Yorker, the designer…
Learn more!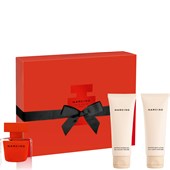 limitierte Editionen/Sets Themes by Narciso Rodriguez
Narciso Rodriguez is an absolute master of his craft. Thanks to his work in New Yorker, the designer has been able to achieve international renown, though he was actually born in Cuba and combines a total of three laconic influences in his work: European, American and Latin American. This composition is also evident in his perfumes and designs which altogether possess an unmistakable, timeless vein and special themes which have been interpreted by Narciso Rodriguez completely anew or differently. The fragrances in particular create a fragrance composition, which is unique within the changeable perfume market.
Classicism with modern notes
Narciso Rodriguez himself once said that he likes to interpret the classic in a modern way to shine this in a completely new light. The Limited Editions/Sets from the designer are perfect evidence of this. Various themes are dealt with quite individually, carefully designed and perfectly processed in order to meet the high demands of the designer even on a grand scale. This gives rise not only to timeless fashion but also a high-quality perfume, which is even more valuable in the Limited Edition.